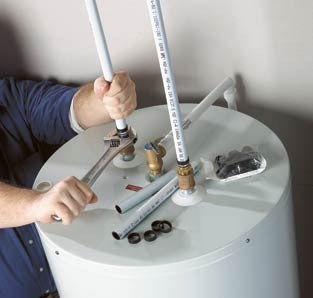 If you've ever had to boil water on a stove to fill a bath-tub, you get to understand the importance of having a water heater, and why you find a water heater in almost every home right here in Texas.
They perform a very important task of providing and supplying hot water to the taps and faucets in every home with a water heater installed. They save time and power, providing you with hot water anytime you are in need of it. And when you come home from work after a hectic day, you step into the bathroom for a warm shower and wash all the stress away, without having to boil water on a stove, that's the beauty of having a functioning water heating system.
Water Heaters comes in different designs and sizes, basically there are two common types of water heaters the tank storage water heating system, and the tankless water heating systems. And when you decide to install a new water heater, or you wish to have an old one replaced, there are factors you need to put into consideration.
And the type of water heater whether you will be choosing a tank storage water heating system, or a tankless heating system. This is very important, since the choice you make is what you are going to be living with for the next 10 to 25 years. It will be in your best interest for a water heater specialist to be present, to help you make the best choice after putting the factors mentioned above into consideration, before having it installed.
Repairs and maintenance of your water heaters is also a necessity, since it's just a machine, requiring proper maintenance, if you want your water heater to continue to function for an extended period of time. You wouldn't want a situation where you wake up one morning only to find out that there is a hole, with water dripping from your water heater.
Our water heater specialists are ever ready to see to your hot water needs, from providing safe installations to quick repairs, whatever your needs are, we provide all you have to do is contact us, and we will have your hot water supply restored.